Becoming a professional organizer wasn't something I planned; it was something I discovered. It started when I became a teacher in the UK. For me, teaching has never been just about sharing information as I have always been truly passionate about encouraging and motivating other people to be the best version of themselves. Naturally, I place the same demands on myself. After moving to Germany I learnt German from scratch, and set up my own business running courses in English for young children.
As a mother of 3 and an enthusiastic teacher, I tried to balance my work, my house and my family as well as I could, and I admit, I struggled. Despite being fully committed to the wellbeing of my family I just couldn't find the sense of calm and stability I wanted. My house was tidy, but I didn't really know where anything was. I felt permanently under pressure and stressed, like I wasn't in control of my own life.  That's when I first encountered Marie Kondo's book "The Life-Changing Magic of Tidying Up" and initiated my first decluttering project, and from that moment on everything started to change.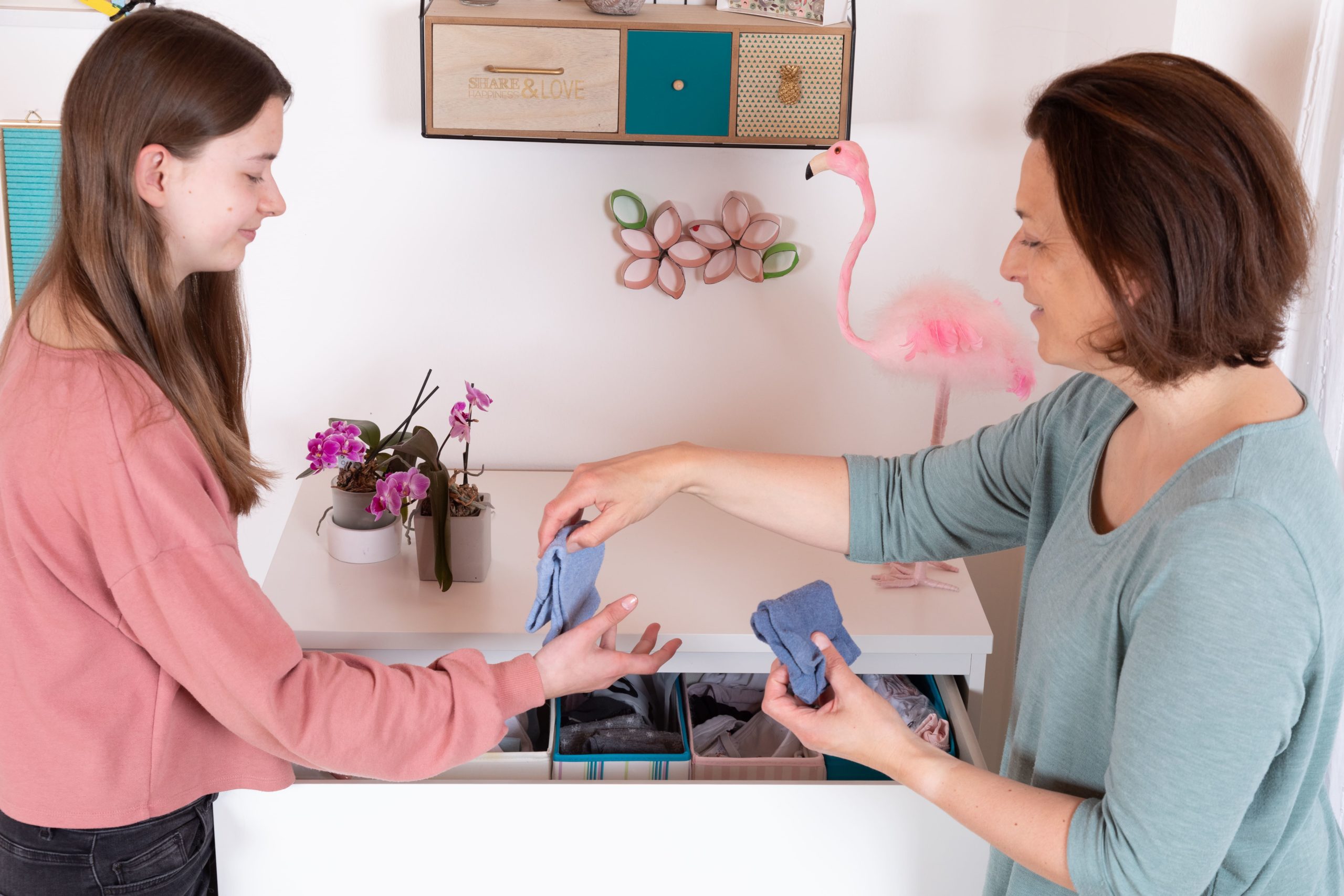 I started small, by organizing my own closet according to the KonMari® method. At the time, there were no professional organizers available in my area, so I learnt by doing. I got rid of all the items that no longer sparked joy and it felt like a weight had been lifted. The result was inspiring, so I had to continue. Step by step I have reorganized and tidied up my entire house and what I discovered was beyond my expectations. Not only did I start feeling calm and stress-free, organizing my home had a positive impact on other aspects of my life as well. It changed the lifestyle of my entire family, the way we buy and dispose of things, the way we feel about the things that surround us. Today there is no more overspending and careless shopping, no more precious time wasted on organizing an everyday mess, because we own only the things that spark joy, and everything we own has its place.
After I made that discovery, I felt inspired to teach other people how they can find this sense of calm and organization in their lives. I moved away from teaching and dedicated myself fully to becoming a professional organizer and KonMari® Consultant.  In a way I don't feel like I have changed my career. I am still teaching, still encouraging people to be the best version of themselves.
Today I am a certified KonMari® consultant and your professional organizer. I have been where you are, and I understand what you are going through. I want to show you that a tidy, comfortable and well-organised home is not a myth but an easily achievable reality, for every family, irrespective of how big (trust me, I have managed it with three kids). You don't have to do this alone and waste a lot of time in the process. I am here and I am committed to seeing things through so that the life you visualise will become your reality. I will support you in decluttering and planning the space around you in a way that will increase your productivity, create more time for your self-care and bring a sense of calm and joy into your home. With my support you will feel like someone who is in control of their life.
You can find me among certified KonMari Consultants on the official KonMari website.
Find out how professional organizing can change YOUR life!